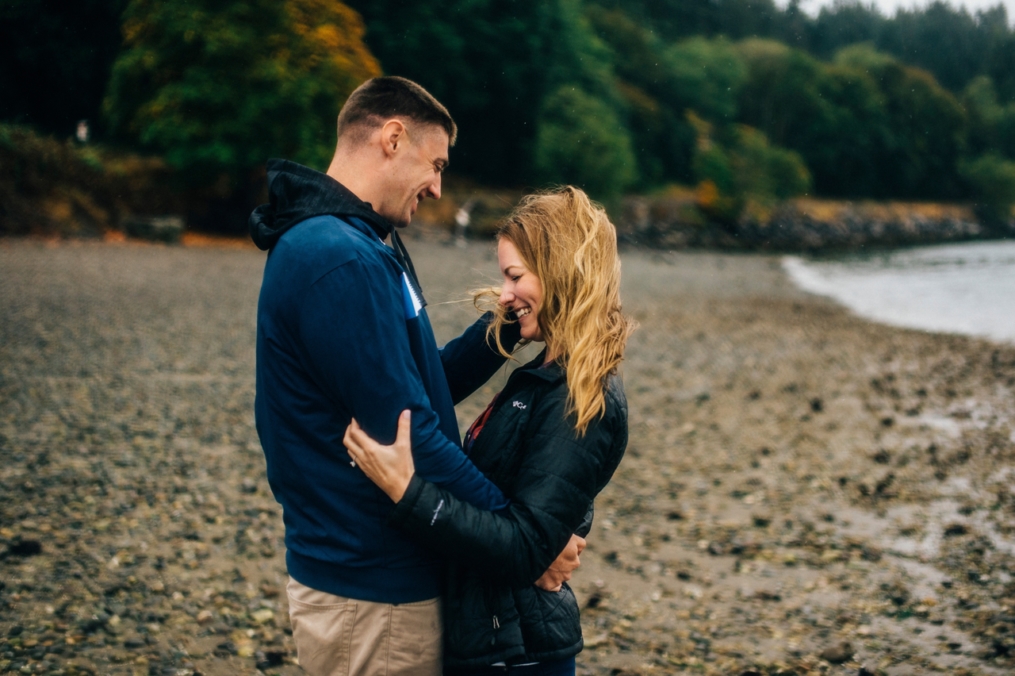 One of the sweetest sessions to date!
Randy and I went to high school together but as much as I hate to admit it – that seems like a looooong time ago! So getting to share in this covert operation with him was so much fun. He contacted me a few weeks back to find out if I had a small window of availability on what was already a double header wedding weekend for me. He was flying home for the weekend from San Diego and it was time to propose – so we squeezed in a little morning jaunt down to the beach…. We had a perfectly planned morning – scouting out the weather and I even took photos and sent them down to him with the lighting and location for what was supposed to be a beautiful sunny morning.
Well, Washington.
We all got soaked – but that was perfect…. Here are some words from Jenna + Randy <3
Randy: I wanted to do a creative, fun, memorable proposal. I really attempted to think of some theme from our relationship, a special place, or a significant event. I couldn't figure out a way to turn any of those memories into a proposal. I was a little disappointed in myself for not having a really good plan. Once the plan was set though, I was at peace. Not really nervous about her response, but just wanted to make sure she I pulled it off without her knowing in advance. The rain didn't matter, we're from Western Washington. It ended up being simple, I got to skip rocks, we read the Bible, and she said yes! It's simplicity made it memorable, she made it perfect.
Jenna: At the moment he first proposed, when he got down on his knee I remember thinking, I've got to remember this moment and so I stared in his eyes and started crying. I couldn't comprehend the words he was saying until he said, can I have your hand (since I was covering my mouth and holding my umbrella in the other!)…ha! Then I came back into the moment, I heard him say, will you marry me, and I said yes! I was excited, but really I felt a sense of peace because I knew how right it was. He had my heart already and I knew then that I had his forever.
Comments
comments